A spotlight on Loonstar Lodge in Crosby, MN.
[blog content written by Taylor Hildreth + adapted from taylorjohildreth.com.]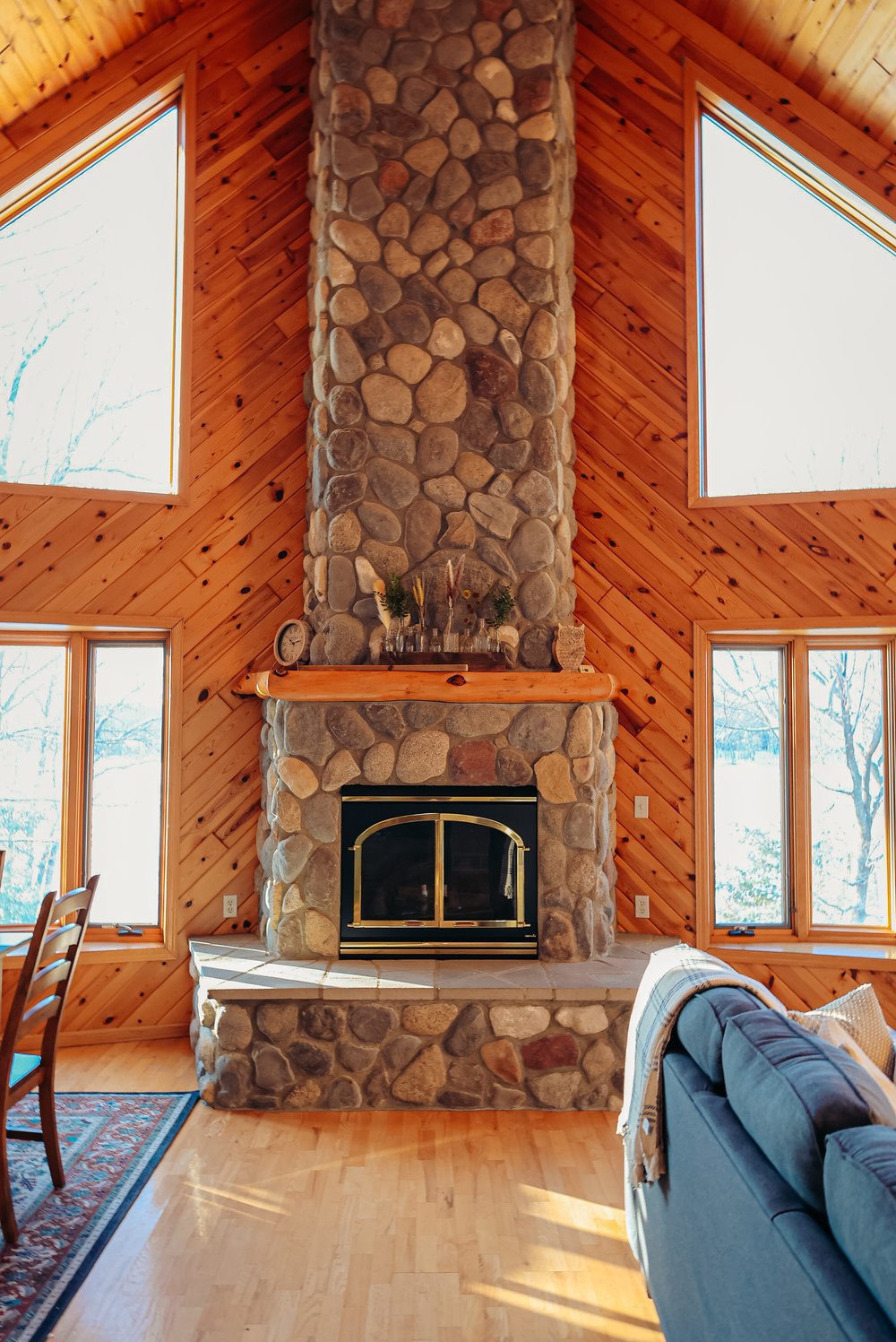 Welcome to Crosby, Minnesota. A small former mining town that is arguably the most up-and-coming tourist destination in Minnesota. In the last seven years, this town has expanded, added new additions of shops and restaurants, and has become a must-ride mountain biking location. If you've been able to explore this area, you already know what a gem it is, and I'm sure you're already planning a trip back ;) if you haven't made an adventure throughout Cuyuna/Crosby, it's a must-add to your Minnesota bucket list. Located about 20 minutes from Brainerd, MN and just over two-hours from the Twin Cities, Crosby is in a great location for a quick weekend getaway or an easy drive for families with kids who want to keep their vacations under three hours.
Coffee
Start your day with caffeine, a light breakfast and some local insight. Right at the end of the main street, next to the iconic Crosby dragon sign, stop at Red Raven coffee + bike shop. Not only is this a great place to get a morning sip, but it's also where you can get the local scoop about the ongoings of town or events during your stay. My go-to order is an iced caramel latte and a breakfast burrito.
Exploring
No trip to Crosby would be complete without exploring the Cuyuna Recreation area. A major draw to the area is the mountain biking around the mine lakes. Full disclosure: I spend so much time in the Crosby area, and I still haven't been mountain biking yet. (gasp) It is on my list, I even bought the bike, just need to get out and go. While I can't personally recommend trails, Cuyuna Adventure Town has a whole guide that you can find here.
What I can recommend for your exploration around the Cuyuna rec area that doesn't require anything but your hiking shoes, is going up to Miner's Mountain for sunrise or sunset, it's the best view around. (Note: you will need to pay for a day pass or have the Minnesota State Park pass to get to the location.) Other activities to check out in the area are paddle boarding, snowshoeing, glass bottom kayaking the mine lake, hiking, swimming, and ice fishing.
Need some gear for your excursions? Be sure to check out

Cuyuna Outfitters

, located right next to Red Raven.
Eat
After a day of exploring, you'll be ready to find some delicious food to refuel your adventures. Crosby is always growing and expanding their food scene with a few new fun places to check out in 2023. I will update the blog when that time comes but until then, here are two restaurants that no matter what you order you can't go wrong →
IRON RANGE EATERY
[The Iron Range Eatery] is the very first restaurant that made me stop in Crosby 5+ years ago, and single handily got me so hooked that we built our own Airbnb in the area (now that's good food). We came for the bruschetta and stayed for the meals and cocktails. My go-to dinner is always the taco bowl with chicken but if you feel like mixing it up, honestly you could close your eyes and pick something off the menu because I haven't had a bad meal there. Eat inside, at the bar or the patio. Plenty of options for just drinks, apps or dinner.
Iron Range Eatery Outdoor Patio
Bruschetta & Cheese Curds
Rafferty's
If you're looking for wood-fired pizza or calzones (everyone sleeps on the calzones) Rafferty's is your place. While they do have multiple locations around the Brainerd Lakes area, it is by far from a chain and worth the stop in Crosby or whenever you come across it. If you're visiting in the summer, head up to the rooftop patio for lunch and dinner and do some people-watching. Looking to try something a little out of the box? Try the loaded baked potato or the feisty pig. My Personal Favorite: Taco Pizza. Why? Because it's loaded with toppings, but because it's wood fired it holds up an doesn't fall all over the table.
Drinks
Beer, cocktails, and wine, oh my! If you're looking for some happy hour sips or after-dinner nightcaps these two places in town are not to be missed.
Cuyuna Brewing
From Cuyuna-inspired brewed beers to a Margarita Seltzer, no trip to the area would be complete without stopping by Cuyuna Brewing. With alcoholic and non-alcoholic options available, games, and kid and pet-friendly environment, everyone is welcome to come to join the community here. Matt and I love going and playing cribbage together for a little date night out and Adayla loves dancing around and meeting new friends.
pro tip → try the MARGARITA SELTZER frozen for an epic summer drink.
HArdwater lounge
Looking to toast to a special moment, wanting to try a smoked cocktail or maybe you just want to play some Nintendo 64, Hardwater Lounge has you covered. They are most well known for their smoked Old Fashioned & smoked Margarita.
Pro tip → let your smoked margarita sit for at least two minutes to get the best flavor!
Shop (w/ a scoop of ice cream on top).
VICTUAL
Stop in to Victual and meet Paul and his team. This local shop has everything from unique curated goods, location Cuyuna souvenirs, everything you could need for the perfect charcuterie board, and lactose-free ice cream that sells out frequently during the summer months. This is a great stop for an afternoon break or a way to end your evening before heading back to your stay.
Bonus → Victual is expanding and their bigger space (in the same building) is set to open in 2023!
Stay
Exploring the town and the Cuyuna Recreation area are highlights of any great trip to Crosby, but where you stay should also be more than just a place to lay your head. Located five minutes out of town on Rabbit Lake sits Loonstar Lodge, a cabin with enough space to fit the whole family, a group of friends, or a mix of them all. Loonstar Lodge has six beds and can sleep 12 people. From the king bed on the main floor to the bunk beds in the basement there are a wide variety of options for everyone in your group, from grandma to the littles. Hang out in the living room around the grand fireplace or sip on your morning coffee on one of the three decks or in the sunroom. I was obsessed with the Pendleton coffee mugs and probably had one too many cups because of it. But hey, it's vacation, right?
Wake up with Nature
Enjoy your morning coffee while soaking up the sunshine through the wall of windows and views of the lake.

In the summer bring your boat, water toys, and swimsuits.
Located right on the lake with a public landing less than five minutes away, Loonstar Lodge is easy to get on the water and soak up those summer moments that sound so good in the depths of our Minnesota winter. One thing to note, there is a slight, paved hill to enter into the cabin that may require a second hand for one with a walker or wheelchair. With a bedroom and bathroom on the main floor, any ability can stay to enjoy the first level of the lodge.
Ready to book your trip to Crosby/Cuyuna? Click here. Also, be sure to check out Cuyuna.com for any other details or questions you may want to know.
This stay was hosted by Woods to Water + Loonstar Lodge but all opinions in this blog are of Taylor Hildreth. Want to see more pictures and video from Crosby and Loonstar Lodge? Be sure to follow Taylor on Instagram and Tiktok.

*This blog has been adapted from Taylor Hildreth + taylorjohildreth.com. To view the original blog, click here. Visit www.bookthebla.com to book Loonstar Lodge and see our full property portfolio.

Posted by Emma Gruber on